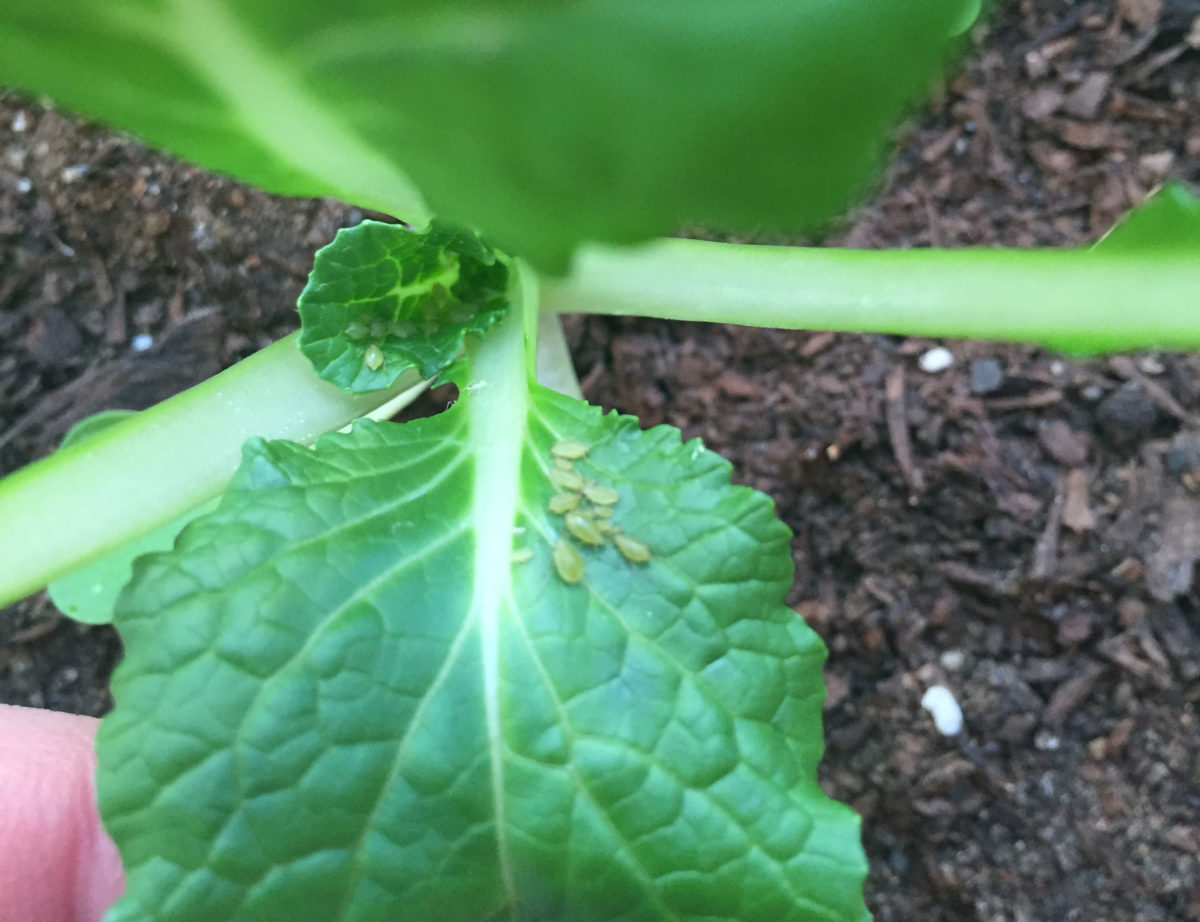 I should not have been surprised when aphids showed up in the greenhouse.  But I'd had such a good start in November, with no sign of any issues, that I assumed I had escaped the terrible sucking plant vampires for this year.
Well I was wrong. Very very wrong.
I somehow forgot that greenhouses are totally different than outside. Aphids showed up mid-late December 2014, and man did they teach me a lot.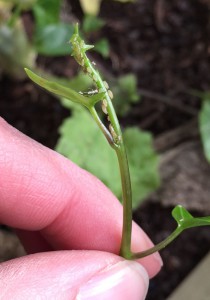 Lesson 1: Don't wait to deal with them
When I first noticed the aphids it was only a couple, sitting on the end of an ornamental plant I had brought in to overwinter for the landscape.  So I dealt with them, shrugged, and thought nothing more of it.  In retrospect, I should have been concerned.  I should have looked harder to find more, and started prep for the annual aphid-war.  But I didn't.
In the following weeks, I did end up seeing more and had the same reaction.  "Meh."  I would remove the ones I saw haphazardly by hand when I felt like it but I still was under the silly assumption that the aphids were no big deal and couldn't do anything because there were so few! Right?
Nope. I finally came to the realization that every time I picked at them, there were actually more than the last time.  They were growing in numbers faster and faster, and they were no longer limited to one area or plant.  But still, it was only a few spaces and plants so I figured I could handle this.
Lesson 2: Don't expect to control the outbreak by hand
I upped my game and went for some artillery in the form of homemade anti-aphid spray.  After some searching around on-line for what the active ingredients in an environmental home-creation aphid spray were, I settled on the basic mix of 1:1 water:rubbing alcohol, with a small amount of dish soap mixed in after.
And this time I was more diligent in the attack.  I sprayed large patches that I could see directly twice a day for 1-2 weeks. But sadly, I really had waited too long. Those melon-green-jerks continued to multiply faster than I could kill them, and plants were starting to suffer. I just was not able to find enough of them fast enough to be effective.  Or maybe it was the spray, or a combination of too late, bad spray and losing at hide-and-seek.  Regardless, I needed help and I did not want to resort to commercial pesticides of any kind.
Lesson 3: Use bio-controls
Enter the front-line troops.
The idea of predatory insects as bio-controls was not a new idea to me.  I just did not think it was something I would need.  Of course, I'll know better for the next time.
So I hit the internet search engines hunting for greenhouse suppliers, and what insect helpers I should be looking to bring in for support.  This list of Vendors for Beneficial Insects in North America was a goldmine for me.  It not only lists vendors, but also many beneficial insects and great resources.
After adding my own research to the suggestions from a couple Canadian vendors, I settled on a 3-week treatment of both Green lacewing larvae (Chrysopa carnea) that are effective even in cooler temperatures (a must for the winter greenhouse in January), and a single species of Parasitoid wasp (Aphidius colemani).
– The lacewing larvae, also called aphid lions, are very opportunistic and voracious predators, fast, active even in cooler temperatures and are not specific to any one type of aphid.  They'll even go after other greenhouse pests.  The larval stage is about 15-20 days, after which the larvae cocoon for a period and emerge as a nomadic nocturnal adult.  Mated females will lay their eggs among aphid clusters, and the cycle repeats. Yay for the greenhouse, too bad for the aphids (I'll feel bad later – maybe).
– The parasitoid wasps are different from true parasites due to the fact that they kill their hosts – the aphids. Personally, I don't see a downside to that.  Each mico-wasp can lay 200-300 eggs in the same number of aphids and has a 2 week immature lifespan, then 2 week adult lifespan. The infected aphids are killed and mummified by the larva as it feeds then pupates, eventually breaking out as an adult ready to continue the aphid removal. There are many different species of parasitoid wasp, and each prefers a certain species of aphid(s) to feed on, so be sure you know what aphids you are dealing with. If I had put these in at the first signs of the aphid issues, they would have established a colony and spent the winter doing all my aphid work for me. Next year for sure!
The first week all was looking great.  The bio-controls arrived and were released, 500 each lacewing and wasps.  As far as I could tell, everything was going perfectly to plan and the aphids would be under control in a few weeks.
Then the first hiccup came, the three-week order had been entered wrong – only one week was in the system.  So the second week came, and went, and no boosters arrived.  I did call and had things sorted out but shipments could only happen once a week.  I crossed my fingers and waited.
The aphids, however, had no intention of waiting.  Nope.  They made very good use of that two week period.  I think they knew I could not spray them for fear of killing the bio-controls I had added.  And that meant multiply like crazy!
Then as per usual, our lovely Northern winter delayed the week three order (shipping was not possible due to weather).  The aphids loved that break too.
Because of the hiccups, I decided to add in a fourth booster of the lacewing and wasps. Much to my absolute delight, my supplier PlantProd included free of charge an entire BUCKET of lacewing larvae that had passed their expiry and could no longer be sold. Which meant that I received a few thousand lacewing larvae, hungry and ready to go to war.
Lesson 4: Bio-controls are AWESOME, but they take time
Happily, I was not expecting a magic bullet that would immediately clear out the aphids. Perhaps things would have gone faster if there had not been so many hiccups, and if I had attacked the aphids earlier.  It's now late March, and I can say I feel the aphids are under control, but NOT beaten.
During the height of the infestation (yes, I will call it an infestation, it was BAD for a while), I did sacrifice some of the worst hit crops to lessen the load my troops were tackling.  I lost the second half of my rapini, as well as the scarlet queen red hakuri turnips.  I also lost half the white hakuri turnips, half the Tokyo Bekana and most of the Minuet chinese cabbage.
But I did save a huge number of crops which have gone into hyper-grow with the spring sunshine.  Soooo tasty.
My takeaways for next season:
Next season, I will be 100% expecting to find aphids, even if everything is looking fantastic in the beginning.  I mean, who WOULDN'T want a nice cozy, warm, protected place to spend the winter, with an abundant supply of fresh food?  And at the first sign, I'll be calling in the air and ground support (read, parasitoid wasps and lacewing larvae).
Have a comment or question?  I'd be happy to hear from you in comments 🙂