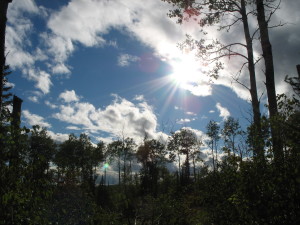 I'll admit.  When one thinks of NorthWestern Ontario gardens are NOT one of the first things that come to mind.  Snow, fishing, fall colors, amazing scenic lakes – yes.  Gardens – no.
So why on earth would I be starting a blog about gardens and growing in the North?
Self-sufficiency, sustainability, and health for starters.
It's true, we don't have a very long growing season, nor do we have the best soils.   But we DO have an amazing amount of sunshine throughout the year, and are fairly isolated from many crop pests or diseases.  And seriously, the pioneers did just fine so what is our problem in this modern age of information?!  Surely we can do better, not worse.
Being in the north, we have an unfortunate reliance on what gets shipped in for fresh vegetables and greens for the majority of the year.  And if there are supply problems, those supplies go down in volume and quality and the price shoots straight up.  Now, I'm not sure if you have tried canned green beans (Read: soggy, colorless, mushy, tasteless, stringy-things), but if you have you have … my condolences.  And if that is what you had as a child, I can't fault you for not liking your greens.  That is not how vegetables should be.  They should be bursting with flavor, color and texture, and be a joy to eat or cook with.  Even the preserved ones.
I often hear folks lamenting that they would love to grow a garden and their own fresh foods, but they don't know how, or they have a "black thumb".  Most of the gardening information available is for a warmer climate and does not translate well for those wanting to try their first northern vegetable gardens.  And over the last two generations, most of the knowledge that used to be second nature has been lost.  So it's is easy to become discouraged and stop trying.
Me, I just don't get discouraged easily.  I started trying to grow my own foods with the idea that "the seed knows what it needs to do.  They are programmed to grow, how hard can this be?".  To a degree it's true.  Of course, my first year I did not do so well…  And I'm continuing to learn the special quirks of growing food in the north.
So to answer the question; Why a blog about growing in the north?  It's simple – To share my learning process, my excitement, my mistakes, my failures and my wins.  And I hope if you are reading this, we can share what we know and what we have learned.