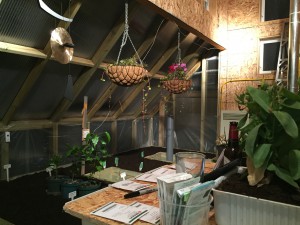 After a long couple years of planning and building, magic happened at the end of October 2014. The first seeds were planted in the raised beds of my experimental all-season urban greenhouse. It's a bit of an understatement to say I was excited. It was like Christmas morning as a kid amplified about ten times.
For those new to the blog, here's a bit of history on what I am working to accomplish:
In a nutshell, all-season food production in a northern urban yard, and sharing that information to inspire and encourage great folks like yourself to grow food in this harsh climate.
How I am going about this is by converting my urban yard into a mix of relaxing/entertaining space, some grass, a large number of raised beds, a micro-orchard and an experimental all-season greenhouse that will hopefully work in both winter and summer to keep a continuous supply of fresh greens and produce available. And I hope to accomplish this with a minimal amount of resources (ie, minimal heat and no supplemental lighting, as well as rain barrels through summer and year-round composting).
What I am not trying to accomplish is commercial food production. 1-2 households would be a great outcome in my mind, and if there are extras to share, BONUS!
So how have my first three months gone? I'd say fairly well, with a lot of learning! Plants and nature are excellent teachers. I've had a wonderful mix of wins and lessons (I will not call them failures, because they teach me the most!) and I'm excited to share them with you. Continue reading Urban "Farming" 365 – The first 3 months (Persephone Period)